Disneyland is said to be the happiest place on the planet. They are, however, mistaken; it is summer camp. And why not? It is a place where you learn to face fears, try new things, cultivate new hobbies, value relationships, and much more. But what actually is summer camp? A camp is a community of kids, teens, or adults. It provides recreational and sporting facilities during the summer vacations. The primary purpose of these camps is athletic, creative, cultural, and most importantly, educational development.
The best part about summer camp is that kids begin to develop a sense of independence while engaging in new activities. Each summer camp is different and offers varied summer camp activities aimed at helping kids become more self-reliant and confident.
However, the pandemic has locked the kids inside their homes at their prime time of learning. Don't you think they require all the fun? Hence, an online summer camp is the best choice to have fun while learning.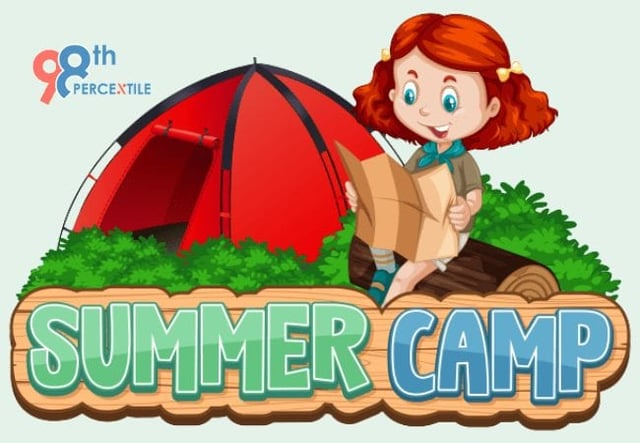 Summer Camp Activities:
The following are some of the activities that kids can participate in during online summer classes:
Crafting -"The human mind is like a parachute," Frank Zappa correctly observed. If it is not open, it will not work. Crafting is an excellent approach to broaden your child's horizons.
Card making –The best way to reach a kid's mind is by telling them stories. It has a long psychological effect on them. Introduce your culture to them and help them to make greetings.
Online contests -Contests can make learning enjoyable for children. Any competition encourages the children to do better. And, rewards will boost their confidence to learn and perform.
Skill enhancement classes-The great way to skip the monotonous routine of academics is to join some skill-based programs in Public speaking and coding. Not only will children have fun but even utilize this time as a learning opportunity
Summer camps in 2021 are held in a virtual environment to prevent summer learning loss. 98thPercentile is taking this step just to let you know that online summer camps for kids and teens are running right now. There are fantastic opportunities for families who want to continue their children's education as summer 2021 approaches. There are lots of summer camps near you for your youngsters to have the summer of a lifetime!
Summer Camp Advantages:
Summer camp is an excellent opportunity to try new things or deepen your knowledge in areas you enjoy. Let's look at the advantages of enrolling your children in online summer school.
Build social skills: These type of camps gives your children a chance to socialize. As human beings, being social is our instinct, but children often don't get the opportunity to make new friends. The socializing skills in humans, leave kids aside, have worsened post-pandemic.
Boost Self Confidence: Summer Camp does an excellent job of teaching children that failing is okay only if they know how to rise after the fall. Mistakes are an indispensable part of the growth curve of any human being. Expecting or assuming that our children shouldn't commit them or not fail is impractical. Confidence boosting activities assist children in self-recognition and realization. These camps instill decision-making ability in them with no external interference. This ability increases their self-confidence and gives a boost to their personality.
Benefits of Summer Camp:
Break from online games: Constantly sitting at home, kids tend to see smartphones, video games for a longer time. The summer camp online has many benefits. The summer camp assigns a task to your children. In addition to that, they are encouraged and motivated to spend their leisure time on crafts, writing, etc.
Fun while they learn: The most influential factor for summer camps is that the kids must learn something while having fun. There are no recommended guidelines to be followed to learn something. Kids are free to investigate things in any way they see fit.
Apart from the above online summer camps, kids can make their summertime enjoyable and productive with 98thPercentile online classes in Math, English, Coding, and Public speaking. These classes will help them enhance their scores and boost their academic performance. A maximum of four pupils can be in one group. As a result, every child receives equal attention.
Below are some of the summer courses that your child can enroll in to enjoy their summers:
98thPercentile math program is a unique blend of interactive and game-based virtual classes. It's an accelerated learning program. And most of the students who are part of the program are able to finish the curriculum of 2 grades in just one academic year. The customized and adaptive learning approach makes the program individual-centered. Teachers spend time beyond classrooms to analyze student progress and learning gaps. If you are someone who prioritizes skills mastered over skills learned, then this is the right program for your children.
98thPercentile coding program is a recurrent 12-week membership program that can last up to two years with two classes per week. The program includes puzzle and block-based programming, game designing, websites, animations, and much more. Each module has varied exercises and projects, culminating in a capstone project which incorporates everything students have studied. It is the perfect nourishment for your kids.
Grammar, writing, vocabulary, spelling, reading fluency, and comprehension are all taught within this program. Direct instruction, interactive reading, inquiry, discussion, and collaborative learning are some of the teaching methods used.
This program is ideal for those who have a dread of conversing in front of a large public. 98thPercentile public speaking program is a unique blend of various speaking techniques and exercises. Students will write and record speeches for a monthly student expo that gets uploaded to a shared site.
To try out 98thPercentile expert classes for free, book free trial classes with us.
Final Thoughts
Summer camps have existed for many years. The communities that form at summer camps have benefited both parents and children. Attendees leave with new skills, lasting friendships, and more rounded personalities at the end of their experience. So, make summer camp a part of your routine this summer.