Trick-or-treating, sometimes known as 'guising,' is a traditional Halloween event in which children dress up in scary outfits and knock on doors for candy. It has become socially acceptable to buy goodies in advance of trick-or-treaters if one lives in a neighborhood with children. It is a brilliant concept and among the most crucial Halloween rituals. The activity is popular in the United States and the United Kingdom and is quickly catching pace with the majority of the world.
Origin of 'Trick or Treat'
The origins of the 'trick or treat' custom are unknown. A large percentage is Irish once again, traveling door to door to collect funds, bread loaf, butter, eggs, cheese, walnuts, apples, and other goods in preparation for the St. Columbus Kill festival was a medieval Irish peasant ritual. Another common practice was to request soul cakes or tributes for oneself in return for promises of prosperity or safety from luck. People often went door to door requesting goodies, and through this practice, the concept of fairies got established. If the treats are not delivered, the house owner usually gets exposed to practical jokes.
As per IrisleabharnaGaedhilge, ii, 370, Hallow E'en is renowned as oidhchena h-aimléise, The night of mischief or con in parts of Count Waterford. It was a tradition that gets followed in various parts of the world. The lads get divided into groups that get led by some horn-blowers selected for their lung power.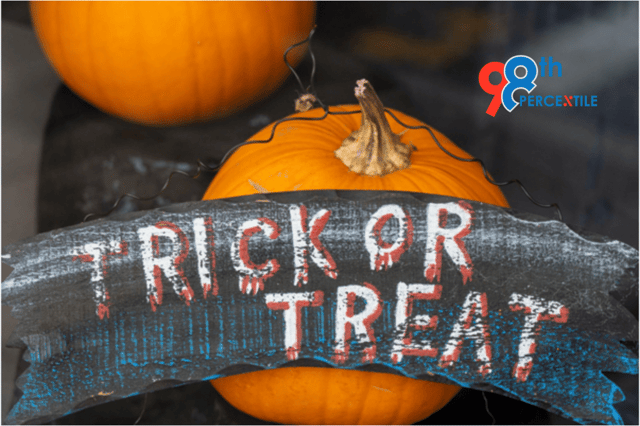 In nineteenth-century America, rural refugees from Ireland and Scotland kept gender-specific Halloween rituals from their native lands. Its entrance to the urban world is most likely traceable to mid-nineteenth-century New York, whereby ragamuffins suited up and solicited adults for cents on Thanksgiving Day. Growing industrialization and unemployment exacerbated the situation in the 1930s. Adults started inventing strategies to deal with the before harmless but now complex, expensive, and lethal vandalism. Urban areas began arranging safe Halloween celebrations, and residents bribed local children to divert their attention away from their earlier chaos. The ragamuffins either vanished or rescheduled their appearance for Halloween.
Around 1939, the phrase trick or treat first appeared in print. Minor children in Ireland and the United Kingdom dressed up and marched to their acquaintance houses, doing small acts and asking for a reward until the mid-twentieth century. As they shout Jingle bells, Batman smells, Robin hatched an egg, and other popular melodies, American children appear to recall this for no other reason than it is normal.
Trick-or-treating is also referred guising in Scotland. When Scottish youngsters dress up in strange costumes, they appear charming and attractive. Every well-dressed child, as he rings the neighbor's doorbells, yells, Trick or treat! Members of the households treat and embrace young children with tasty miniature chocolates and tiny and colorful candy.
What other events or activities take place?
Halloween is more than simply a one-day event. It takes roughly two weeks to prepare the ideal Outfit for Halloween, organizes your trick-or-treating route, locates pumpkin sculpting ideas to put on the doorstep, devour the tasty Halloween candy without shame, and enhance the eeriness of your outside decorations. Some of the weird Halloween activities to make your year spooky are listed below:
Knott's Berry Farm: Knott's Berry Farm, the biggest Halloween celebration in Southern California, evolves into a frightening entertainment for the year. Haunted homes, dark displays, and over 1,000 terrifying monsters prowling in the fog and hidden in every part of the park are all on the menu.
The Louisville Zoo Halloween Party: It is named the World's biggest Halloween event. Every year, the Louisville Zoo shakes things up a little by throwing a fun Halloween party. There is a "headless horseman," and that's about the limit of the scarier elements.
Emma Crawford Coffin Races & Festival:The Colorado Coffin Races held on 30th October. Although this town is small, it puts a fantastic Halloween celebration that incorporates ghost tours and a fashion show.
Village Halloween Parade:The Village Halloween March will surprise you with over-the-top outfits and extravagant revelry in New York City flair.
98thPercentile's Ongoing Trick or Treat Kahoot Event
Every fun-filled event related to Halloween ends on the 31st of October. However, 98thPercentile Trick or treat will last even after that to double the fun. This Halloween, 98thPercentile is hosting Trick or Treat Kahoot on November 6 and 7 to encourage students to read. Students in grades 1–6 will need to register first to participate in this spooky event of the year. Children will be required to read one of three Halloween-themed books as part of the event's goal of instilling reading habits. Then, as part of the Kahoot session, they must go through a tricky question-and-answer round. It will be a fun event with a once-in-a-lifetime opportunity to acquire exceptional reading and analytical abilities. Winners of this competition will get cash prizes of up to $1000 as well as outstanding scholarships.
Click here to register for this event.
Summary
Halloween is one of the oldest annual festivities, going to take place on October 31st. However, it is always extra fun to celebrate a little more. To make this Halloween more spooktacular, 98thPercentile is organizing Trick and Treat Kahoot and encouraging children to read more. This event will be entertaining and informative for students, providing them with a unique lifetime experience. It is the best opportunity for children to enjoy and learn at the same time. Try 98th Percentile now by booking a free trial session here!