A quickly growing online learning platform is sweeping the nation and catapulting students grades ahead in English, math and coding. At a time when the return to traditional schooling is uncertain, 98th Percentile offers students a way to increase their skills and advance their education all from the comfort of home.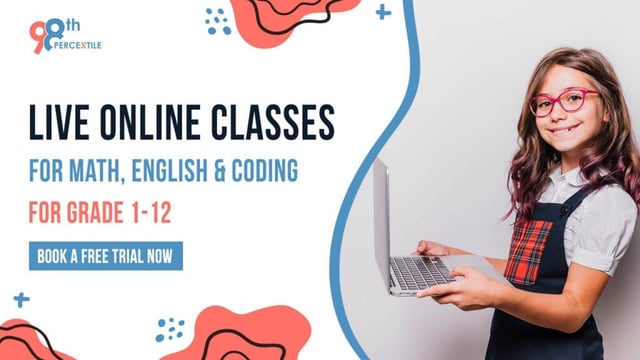 How it Works
98th Percentile's after school program for kids consists of live, online lessons taught by highly qualified and credentialed teachers. With a maximum class size of 4 students, each individual is given unique attention that may not be possible in traditional classrooms.
Once you register your child for a free trial, he or she will take our award-winning placement test for English and/or Math to determine what level class we place them in. Then, you will choose from a menu of class days and times that best fit your family's schedule. Once your student is enrolled, they will receive information on how to join our portal, join their class, and start learning! Classes are 50 minutes long and are taught live, so as questions or doubts come to mind within your child, their teacher is able to clarify along the way.
98th Percentile teachers closely monitor the progress of each student. Each week, they collect data and pinpoint skill gaps that may exist within your child's education from previous grade levels. Then, they customize lessons for your child, teach and work with them until the skill is achieved. Our program is simply the concrete that ensures no student falls through the cracks.
The 98th Percentile Advantage
98th Percentile students enjoy a plethora of benefits. Our accelerated curriculum, based off of the Common Core standards they are tested on in school, is designed so that your child receives explicit instruction through every single concept in English, math and/or coding.
Through our accelerated curriculum and individualized attention, our students typically advance a grade level in 6 months. This means that they successfully achieve mastery of each skill which can directly translate to improvements in their everyday classrooms.
A proactive and progressive approach, one of our main focuses is on correcting skill gaps. We believe strongly that a solid foundation is of utmost importance in progressing through school and life beyond, and we work on a case-by-case basis to ensure every student's foundation is strong.
Finally, the ease our program offers parents has no competition. We structure our program so that students are able to take our classes completely independently, even in the lower grades. With live, dedicated teachers, all your child needs is a device with internet connection to start advancing their education. Plus, our program is a fraction of the expense of traditional tutoring or supplemental educational programs, giving you value at an extremely affordable cost.
Why 98th Percentile?
Why join the 98th Percentile family? Acceleration is critical for today's students to get accepted to competitive colleges, and our math and English programs provide that edge to guide students forward. Our online coding classes provide a strong foundation in the increasingly demanding skill to prepare our students to stand out in their future professional lives as well.
Through our program, you will see the development of important skills in your child such as logical thinking, rational thinking, comprehension, math, reading, writing, grammar and self-confidence.
Enroll your student in the best online learning center in the USA, advance their grade level in 6 months, and watch their skills flourish!