Where does the bee in Spelling-Bee come from? This question has been buzzing our minds for so long.
Did you know the British used the word bee more often to describe an event in which neighbors would gather around and work on an activity? Examples were quilting bee, sewing bee, etc.
We believe in a rather different story. Once upon a time, there was a mother-bee and a child-bee named "Hope". The child bee was very sharp and was good at studies. It helped mother-bee in collecting nectar, and then it went to school and excelled in studies. One fine day, a honey farmer paid a visit to their hive. It was time to harvest honey, and hence all the bees either had to move or die. The bees requested the farmer to spare their home but the farmer disagreed. After rounds of discussions, the farmer agreed on one condition. According to the condition farmer put, the bees had to compete with the children of the honey farmer in a Spelling Bee contest.
The bee family had only one hope left, and that was the child-bee 'Hope'.
Hope taught the bees for one week, day and night. On the day of the competition, the farmer's children performed well and were about to win. Hope was the last bee to go from the bee family and had their fate in its hands. Hope and its competing team were to spell the same word. The word was apiculturist, and to surprise, the competing children could not spell it correctly, but 'Hope' did! Hope saved their hive, and since that day bee is buzzing in spelling-bee!
A spelling bee is a competition in which students and fellows participate and spell many words. Words range from easy to difficult in level. The student who wins has either spelled the most difficult words or the most number of words correctly.
The Spelling bee contest is a fantastic opportunity for students to learn in an exciting environment. It adds more value to your child's brains than you think. A child's journey from the beginning, till the day of competition, keeps participants thrilled about the competition and ignites a fire of curiosity to learn. Here is a suggested list of benefits of Spelling.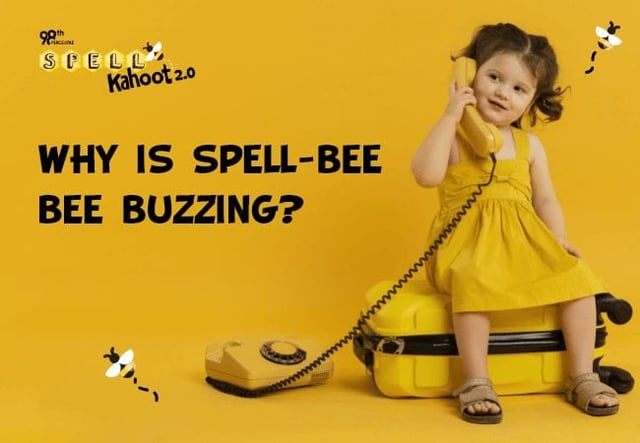 Here is a suggested list of benefits of Spelling Bee:
Spelling Bee competition encourages child to read
To excel in spelling bee competitions, participants should have a good vocabulary. To enhance vocabulary reading; is one of the best ways. Participation in Spelling Bee competitions will motivate students to read books as part of the preparation and imbibe a reading habit.
Spelling Bee competition helps build character and confidence
Can you spell Czechoslovakia, Handkerchief or Misspell correctly?
Imagine your child spelling these words fluently in a room filled with people. Imagine the level of satisfaction and confidence! This is what the spelling bee does. It gives your child the confidence to face the world.
Spelling Bee competition helps improve public speaking skills of child
Public speaking is a typical fear among children. However, spelling bee competitions open students to public speaking since early on. Competitions like the spelling bee give a platform to children and help them overcome their fear.
Spelling Bee competition helps improves cognitive skills
Cognitive skills are those that your brain uses to think, read, remember, learn, reason, and pay attention. Spelling bee helps your child learn how to break down huge words and spell them the correct manner. Thus preparing for spelling bee competition improves cognitive skills.
Spelling Bee teaches the importance of time
Participation in competitions like Spelling Bee prepares your child to perform best under pressure. The time-bound environment sharpens their mind to think in the required direction and helps them respect every second.
98thPercentile Brings Spell Kahoot 2.0
Keeping the importance of the spelling bee in mind, we have brought the Spell Kahoot 2.0. The first edition of Spell Kahoot was a grand success. This success made us understand how much parents and children were motivated to participate. Hence we brought it back. That's right spelling bee is buzzing again.
This competition is for students from grades 1 to 6. The competition will be held in three different categories. Students from grade 1 and grade 2 will participate as 1 group. Similarly, grade 3 and grade 4 students will make one group, and students from grade 5 and grade will be competing in 1 group.
We at 98thPercentile understand your concerns. We know that you want the best for your child. Experts at 98thPercentile identify your child's areas of improvement points, evaluate them, and then prepare specifically tailored content that helps your child to grow and learn. Thus, your child is offered the best content available based on their grades.
Benefits of participating in Spell Kahoot 2.0
We have many benefits that come along with participating in Spell Kahoot 2.0.
It will make your summer more productive than ever
There are many exciting rewards like awards and scholarships worth $1000, Amazon gift cards, along with Math, ELA, Coding, or Public Speaking trial classes.
Participants will be provided with participation certificates.
It is free of cost.
Expand your circle and make friends from all over the country.
Learn from the best experts out there.
The list can go on and on but we know you have made your mind already. Let the spelling bee buzz and give your child the best resource to practice and learn. To register with us, book a free trial class today!