ACT:
American College Test is a standardized test taken by students and is one of the most popular ones in the US. Having said that,more than a couple of million students take this test every year from around the globe. The students are tested in various sections of academic achievement, proficiency, analytical abilities etc. A composite score is arrived by averaging out the individual scores and rounded to the nearest whole number.

So, who should take ACT test?
While there is no one straight forward answer to this and the very standardization techniques are being questioned and challenged by researchers lately, it is still the most resorted score by the colleges in the USA. The ACT does not have an eligibility criterion. The purpose of this test is for the colleges to gauge the readiness level of an entrant. This happens to be one of the components that can get a student into a good college.
Historically, it is also found that students who complete a high school coursework that includes English, Math, Science and Social Studies have outperformed those who have not completed them. This is not about getting an admission to a college but just about getting higher scores in ACT.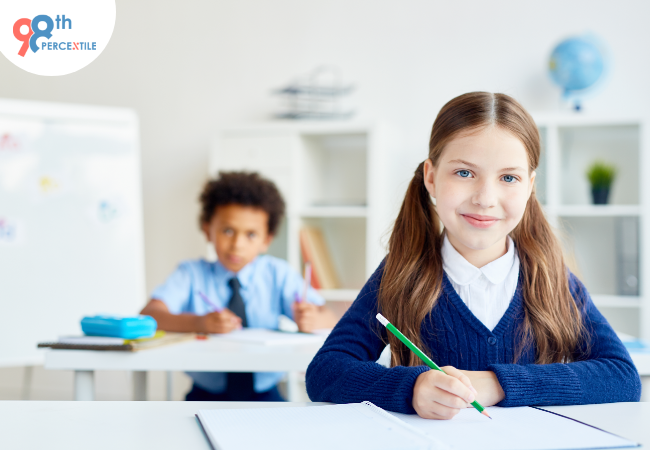 Let's take a deep dive into ACT components.
There are four academic skill areas that ACT tests. Also optionally offers a writing skill test if a student so chooses. Here is a quick view of the components of ACT:
| | | |
| --- | --- | --- |
| Subject | Duration (In Minutes) | No.of Questions |
| English | 45 | 75 |
| Mathematics | 60 | 60 |
| Reading | 35 | 40 |
| Science | 35 | 40 |
| Writing (Optional) | 40 | |
| Total Time - (Incl Breaks) | 3.55 | |
So, while gifted children can take this test ahead of high school, it is not a bad idea to attempt earlier on, during middle school. One must understand that a middle school student is not emotionally ready to take the scores in the right spirit; it is imperative that there must be an open dialogue about taking the test. The only reason a middle schooler could take a test is to get a head up on the very skill of test taking and not the subject expertise or proficiency. It is better for the parent, the student and the teacher to discuss and be clear about the reasoning behind taking the test.
When is it available?
ACT is available seven times a year: in September, October, December, February, April, June, and July. Given below are the upcoming dates:
Test Date

Regular Registration Deadline

Late Registration Deadline
(Late Fee Applies)

June 11, 2022

May 6

May 20

July 16, 2022

June 17

June 24
Why take it as early as middle school or before high school?
A student can get a good sense of timing.

A practice and insight for MCQ testing.

Increases the ability to think under pressure.

Gives a sense of direction to the interests of a student pertaining to subjects.

These scores need not be final while applying to college. You can give the test multiple times and ACT publishes the score that you choose.

Qualify for a number of different summer programs and online courses even with low scores.
How to prepare for the test?
Start as early as possible:
There are math tests like Kangaroo Math or CogAT that can set the ball rolling for the students right from grade 1. Math has a lot to do with training the brain to look at numbers and patterns and trigger solutions.
Schedule a time to practise MCQ style questions:
It helps if it is a periodical say specific two days of a week and fixed location as specific as a room or desk or spot in the garden or a balcony. This tunes our brain to make it habitual.
We at 98thPercentile are committed to supporting every single student's math skill irrespective of the fact that they are gifted or talented or not. We believe with the right teaching and support every student can become a talented one. After enough contemplation and observation, we have committed to maintaining the number of students per class to 4 (max). This enhances focused support by the teacher, peer learning and challenges, just in the right proportions. Our objective is to reveal the mathematical abilities of a student to themselves and accelerate on the go, effortlessly.