In the competitive world of higher education, the journey to secure a spot at an Ivy League institution is akin to a marathon rather than a sprint. Recent statistical data and trends underscore the undeniable advantage that early birds enjoy when it comes to Ivy League admissions. While the process is complex and multifaceted, beginning the preparation process early significantly enhances a student's likelihood of acceptance. Before we move ahead let us understand why do
For every student admitted, approximately nine face rejection. This selectivity not only upholds the universities' academic standards but also fosters a steady stream of students who not only contribute to impressive academic achievements but also play a role in ensuring a continuous flow of donations.
When embarking on your quest for undergraduate and graduate degrees, Ivy League institutions invariably seize your attention for numerous reasons. Primarily, they allocate significant resources to attract bright, industrious, and career-focused individuals from across the globe. Furthermore, their reputation for propelling students towards successful professional careers is widely acknowledged. Across various domains, spanning Law, Medicine, Electrical Engineering, Business, and more, Ivy League universities undeniably dominate. A degree from one of these esteemed institutions can open doors to numerous future opportunities.
The Power of Early Preparation: Recent Statistics Speak
Recent years have seen a surge in the number of applications to Ivy League schools, driving acceptance rates to all-time lows. To navigate this fierce competition, it's imperative to seize any advantage available. According to The U.S.News Strategies for Enhancing Your Odds of Gaining Admission to Ivy League Schools
Securing a coveted spot at an Ivy League institution demands a comprehensive understanding of the multifaceted admissions process. The intricate evaluation carried out by Ivy League admissions officers takes into account an array of factors, ranging from academic performance to extracurricular involvement.
Recent data from Ivy League schools underscores the importance of standardized test scores. Notably, the average SAT and ACT scores among 2021 freshmen at these institutions were notably high, reflecting the top-tier caliber of applicants. Ivy League schools, such as Harvard and Princeton, require an average SAT score around 737 for evidence-based reading and writing, with a math score of 762. On the ACT, the average score hovers around 34 out of 36.
As found by a recognized admission expert website the acceptance rate in the Ivy Leagues are as follows: · Harvard – 4.6% acceptance rate ·
Cornell – 8.7% acceptance rate ·
Brown – 5% acceptance rate ·
Dartmouth– 6.2% acceptance rate ·
University of Pennsylvania– 7.7% acceptance rate ·
Princeton– 5.8% acceptance rate ·
Yale – 6.3% acceptance rate ·
Columbia– 3.9% acceptance rate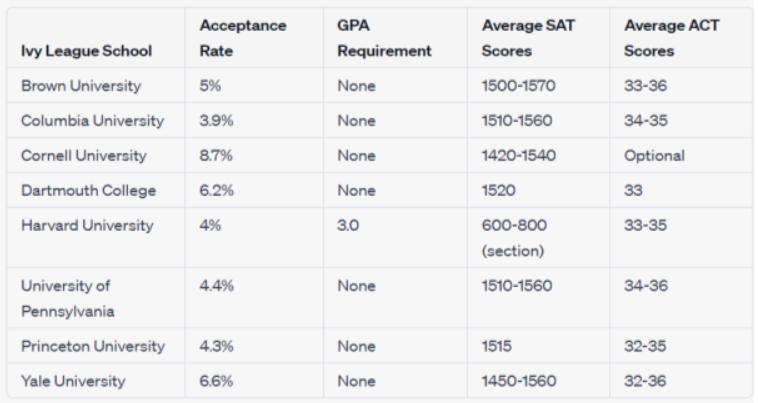 Please note that for some schools, the GPA requirement is not explicitly mentioned as "None," but rather as "No minimum GPA requirement." Also, for Cornell University, the SAT scores are provided as a range.
Allen Cheng, Co- founder Prep Scholar – a Harvard alum, shares his experience on what the Ivy leagues expects their students to be like. Let's get straight to the point. Ivy League institutions seek two primary attributes in applicants:
Individuals poised to achieve transformative feats on a global scale.
Students inclined to enrich their college communities, fostering positive contributions, aiding peers in achieving remarkable accomplishments.
In essence, these are the sought-after traits.
Upon admitting students to Harvard or Stanford, the aspiration is that they will effect substantial change worldwide. This impact can manifest diversely — founding influential enterprises, spearheading international healthcare initiatives via nonprofits, clinching accolades like the
Pulitzer Prize for authored works, or even becoming exceptional parents who raise future achievers.
William R. Fitzsimmons, the longstanding Dean of Admissions at Harvard College, affirms this stance, stating, "We admit around 2,100 candidates annually. We believe they possess commendable personal attributes, capable of enlightening and motivating fellow undergraduates across their four-year academic journey, ultimately leaving Harvard to make a considerable global difference."
Undoubtedly, this is a complex projection for a young individual as at this juncture, personal development is ongoing, life paths are uncharted, and ample room for growth remains. Nevertheless, the prevailing college application process stands as the most effective means for institutions to foresee those students poised for extraordinary accomplishments. The preparation must begin at a standard time which begins from school life itself. Let's delve into what the expert advice on preparing your child for their collegiate journey. Setting the stage for an Ivy League education demands dedication and a strategic approach. Commencing preparations well before their senior year can pave the way for a robust college application that resonates with the desired institutions.
Let's delve into what the expert advice on preparing your child for their collegiate journey. Setting the stage for an Ivy League education demands dedication and a strategic approach. Commencing preparations well before their senior year can pave the way for a robust college application that resonates with the desired institutions.
Cultivate and Nourish Interests Securing a spot in Ivy League schools extends beyond impressive grades and test scores. Admissions panels seek students with multifaceted and distinct passions. Your child's fervor for a particular subject, pursuit, or club can prove pivotal for their future triumphs. Facilitate their exploration of various interests until they uncover their true passion. This not only enriches their application but also equips them with vital skills for college life.
Elevate Academic Performance Fostering a genuine enthusiasm for learning commences early and stands as a cornerstone for success. A high GPA serves as a metric for academic acumen. While a GPA isn't a sole reflection of intelligence, it holds sway over admission committees. Sustained effort to maintain a high GPA throughout high school is pivotal. However, if your child encounters challenges, extending gentle encouragement for seeking support—be it from tutors, clubs, or programs—can be transformative.
Conquer Standardized Tests Standardized tests, like the SAT and ACT, wield significance in college applications. They gauge a student's foundation in math, reading, and writing.
Navigate College Selection Selecting the right institution necessitates meticulous research. While all Ivy League schools are esteemed, their suitability for your child's goals varies. Examining available programs, aligning with passions, and evaluating extracurricular offerings are crucial. Beyond academics, clubs and activities should complement your child's interests.
Whenever feasible, campus visits provide insight into school culture. Conversing with current students, attending classes, and exploring campuses aids informed decision-making.
Articulate Through Essays Holistic application reviews prioritize personal statements and supplemental essays. These narratives humanize applicants, offering a glimpse into their essence beyond academic metrics. Essays should unveil aspects that remain unexplored in other application components.
Superlative essays captivate with compelling storytelling and vivid imagery. While academic papers differ, application essays present experiences and thrive when penned in the first person. Encourage multiple drafts, understanding that refining is key to exceptional writing.
Nurture Independence Supporting your child's aspirations is crucial, but striking a balance with autonomy is vital. Empower them to make decisions aligned with their vision. From an early age, foster self-reliance, a trait pivotal for their impending college journey.