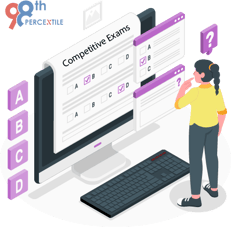 A competitive exam is an examination intended to measure the exam-takers knowledge, aptitude, reasoning, or any other skill based on the topic of the exam. The candidates are then ranked according to the percentile or grade they achieve. These competitive exams can be of state-level, national-level, or international level. Exposure to competitive exams early on in life prepares children for their future and helps them explore different subjects and find their interests.
The main motto of any competitive exam is to enhance the skillset and learn in the process. Competition is really about goal-setting and working towards that goal. Besides, competition also allows children to believe in themselves, put in the necessary hard work, and move forward to prepare for the trajectory of their careers. Children should develop the spirit of competition early on in a healthy way to ace not only in exams but also in life.
This is how competitive exams brightens the children's future-
1) Merits, Scholarship, and Awards
By encouraging children to enroll in competitive exams, they can earn merit rank, scholarships, and awards. Naturally, routinely participating in such assessments will add to their lifelong achievements. Further, scholarships that assist in providing financial aid are often determined by high performance, which makes this a great habit to get a child used to while they're young. Participants also get exposed to various other perks such as meeting note-worthy mathematicians and scientists, attending free summer camp, and much more if they win the contests like Math Kangaroo.
2) Opens Doors to Prestigious Universities
Participating in competitive exams increases the chances at prestigious universities and top-tier colleges. We all know it's not so easy to get into top colleges as it requires a sheer amount of hard work over a long period of time. Children who appear for Olympiad exams and rank well in other such competitive exams have the edge over others who don't.
3) Develops a Sharp IQ
We are surrounded by machines, from something as simple as calculating our bills to making our homes smart with virtual assistant devices. It's like our brains have gone for a toss.The competitive exam syllabus gives the children a scope to improve on the mental math aspect. To solve these problems, one needs to decipher the puzzle-problem involved and use their mind. Thus, working on problem-sets, puzzles, logical -reasoning questions increase the Intelligence Quotient.
4) Builds Self-discipline
Success comes to those who are self-disciplined. Self-discipline is also a skill, like any other skill, which gets built when you practice anything. Since acing competitive exams requires lots of practice, it automatically increases your self-discipline muscle. We can safely say that self-discipline is the by-product of studying for competitive exams.
5) Sets aDirection fortheDesired Career
Path
Once a child starts understanding the concepts taught in school, they also begin developing interests in the subjects. Competitive exams help determine the initial career path, as getting success in these exams needs learning about logical reasoning, aptitude, and the subject field itself. It gives children a chance to understand what to expect in that particular field. For instance,Math Kangaroo can instill a love for math in children. Engagement and proficiencycan also pave a path to make a great career in any science, technology, engineering, or math field, also known as STEM.
Registrations for Math Kangaroo Competition 2022 (an international math competition that focuses on increasing computational and logical ability) are currently open. Early practice can help your child ace the test and brighten their future.
6) Enhances Critical Thinking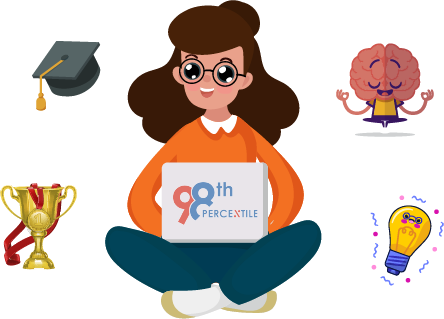 Most logical-reasoning based competitions require various styles of mathematical thinking – this means that students develop critical thinking skills in the longer run. Critical thinking provides an overall development, and that helps in even the non-academic front. The ability to solve the problems within a few minutes is bound to increase the critical thinking in the students. Simply learning out of textbooks cannot help in developing this skill. Competitive exams make children proficient in written and verbal communication, aptitude, logical ability, and critical thinking skills.
The class structure of 98thPercentile Math program includes discussion of critical thinking questions in every class and preparing children for competitive exams like Math Kangaroo, STAAR test, and much more.
98thPercentile also offers online, after-school enrichment and acceleration programs in Math, English, Coding, and Public Speaking for Grade K to 12 students. Browse through our programs and book your free trial class today!
Summary
Competitive exams offer a lot of benefits to youngsters. Healthy competition inspires children to do much more than their abilities, paving a path for an extraordinary career. They become brighter and learn at an early age. 98thPercentile has come up with an initiative to provide the previous years' question papers with answers for grades 1-12 students to help them prepare and ace Math Kangaroo Test 2022.