You can learn even more about teaching English at home with our free trial offer of online English courses for kids!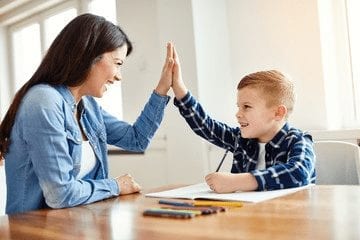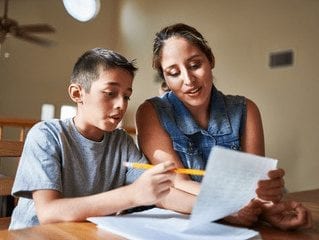 Don't you agree that learning English at home gives students an academic advantage?
98thPercentile does! In addition to our free trial offer of online English courses for kids, we offer parents these tips for teaching English at home.
1. Choose educational materials that YOU find interesting and meaningful.
There are many creative ideas out there in teacher supply stores and on the internet for teaching English. Those you see that inspire you can inspire your child, too!

Choose those materials that you believe will provide great next steps toward your child's mastery of the English language.

Subjects to consider include literature reading; informational reading; language (spelling, grammar, vocabulary); and writing.
2. Commit to a schedule.
As the number one expert on your child's needs, you already possess important instincts about what motivates him or her to excel. You just apply those same instincts to English learning.


Begin this commitment by establishing a schedule and routine in which you can creatively and enthusiastically work together.
Whatever day(s) of the week, or time(s) in the day, stay as committed as possible to your work together, making it a priority. Your child will soon see it as one, too.
3. Establish comfortable communication.
Once you set your schedule, establish communication with your child that enables him or her to share his positive and negative feelings about learning English along the way. This can give you important insight into how the lessons are going.
An easy way to check in with his or her learning experience is to periodically ask the following questions:
A. What is working for you with our lessons?
B. What is not working for you with our lessons?
C. What can be improved for our lessons?
4. Be willing to adjust the curriculum or schedule as you move forward.
You will be able to tell when a change is needed if your child becomes frustrated or bored with the curriculum. If something doesn't work, find what does, and you both will be back on track.
5. Link each step in the lesson process with transitions.
Begin each lesson with a brief review of the previous one. Then share what you will be doing. Afterward, review what you have done and preview what you will be doing next time.
6. Use your child's classroom teacher as a great reference.
He or she is your partner in your child's academic success and will be happy to provide you with references or even handouts to help guide your child through the English lessons.
As a parent, you are well aware of the critical importance of a quality English Language Arts education for your child. 98thPercentile is here to help your child succeed! We deliver quality instruction for all six facets of English Language Arts education through our accelerated learning content-mastery program. If you are interested in partnering with us for your child's English Language Arts educational needs,Try us for for FREE with no strings attached.