Regardless of what career path one espouses to follow, the importance of accelerated Math will always be felt. Math expands the horizons of critical and analytical thinking. It is beneficial in almost every area of our lives. Hence, students must understand the importance of the subject and its wide practical application. Students must be motivated to actively participate in understanding mathematical concepts as it is necessary for them to achieve the milestones of academic success that they desire. Strategies to learn accelerated math concepts in a recreational manner are essential to encourage children to practice and achieve clarity in the topics learned.

Math Olympiad is a platform where your child will be able to discover his/her hidden potential and love for the subject. This is an approach which motivates children to make efforts in learning the concepts. When a child tries to solve questions which have practical applications, it triggers them to look for the solutions. It helps children to come up with their own ways to solve the equations, stimulating their critical thinking. Math Olympiad unveils the true meaning of accelerated math-learning and its practice.

We are aware from ages that to perform perfectly in any area of life, we must plan ahead. Preparation plays the most important role to give your best in any exam. To absorb the most benefits of the Math Olympiad and to excel in the same, the right preparation is extremely vital. Math, the subject itself, gives this whole idea that every problem is born with its solution and below we have enlisted five ways to crack any Math Olympiad.


5 Ways to Crack Any Math Olympiad
Syllabus and Pattern - Having correct and complete information and awareness about the syllabus and the pattern of Math Olympiad helps you to build a road map of your preparation. It helps you to prepare a plan of action to develop strategies to have enough practice and revision before the examination. With an idea of what to study and in how many ways a particular concept can be used helps you to plan way ahead from others. This also helps children to feel at ease when they are actually studying as it helps them to focus solely on the specific topics that are to be covered in the Math Olympiad without getting overwhelmed with the profound area that the subject math covers.
Plan of Action - A proper study plan is essential to outshine in any exam. An effective study plan is one which can easily be executed in accordance with the daily schedule of the child. It must not make a child feel overwhelmed with an endless list of tasks and long intensive hours of studying. Rather, it must motivate a child to sit for the desired time period and practice with 100% focus and passion. Prepare a study plan for Math Olympiad in a way that you get an hour everyday to focus solely on math practice without any distraction. Make a list of all the necessary activities or events in a day and week and plan accordingly. Reward psychology must be implemented to work even more efficiently wherein a child is rewarding himself/herself with something fun in exchange of sincerely studying for a particular period of time.
Time Management - Gone are the days when students were only dealing with school. Nowadays, students are engaged and enrolled in various essential activities and shaping the best future for themselves. Hence, it is very important to manage your time and activities in a way that would support the amount of diligent hours requisite for preparation of Math Olympiad.
Practice! Practice! Practice! - To be a master of any Math Olympiad, consistent math practice is mandatory. Preparing a time table, making notes, managing your time and all other tips will seem futile if consistent practice and learning is not done. Develop strategies of fun learning so that your mind wants you to practice more and more. Hence, you find yourself sitting for hours preparing for the Math Olympiad.
Take Lots of Mock Tests - The importance of previous years question papers, worksheets, mock tests and cheat sheets cannot be highlighted enough to pass any Math Olympiad with top-notch scores. Practicing questions not just enhances the pace to solve math problems, but also gives you a clear picture of your proficiency in the syllabus. Taking mock tests makes you aware about how much and the areas you need to work more to surmount the Math Olympiad.


What is 98thPercentile's SMART Math Olympiad?
One of the biggest Math Olympiads is conducted by 98thPercentile - SMART, or School Math and Reasoning Test, which is an Olympiad event that assesses students in mathematical reasoning and data interpretation. SMART's aim is to develop students academically while also encouraging pride for outstanding intellectual performance!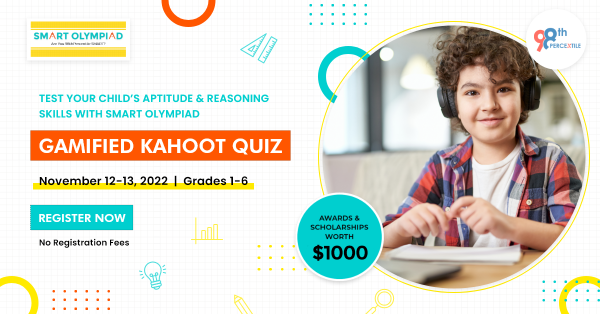 Benefits of 98thPercentile's SMART
Test Preparation: SMART's platform prepares students for more than 20 national standard exams, including TEA, STAR and ITBS.
Enhance Critical Thinking Skills: SMART requires students to solve problems using variables and different operations, which is a critical skill of everyday life.
Competitive Spirit: Students develop confidence by competing with their peers as they answer questions accurately and quickly.
Individual Recognition: The top 3 winners are featured in a digital press release including an interview and blog post about their experience.
About 98thPercentile
98thPercentile provides accelerated programs in Math, ELA, Coding and Public Speaking, helping the children to develop strategies to solve problems and develop their critical thinking.

Small sized online classes, skilled teachers, and comprehensive and accelerated programs make 98thPercentile the best choice if you want your child to achieve academic milestones.
Online mode of learning gives the students the privilege to learn in an environment familiar and comfortable to them.

Detailed math curriculum accompanied with regular tests and free worksheets provide all that is necessary to prepare students for all the gifted and accelerated Math Olympiads and other competitions. Accelerated math program focusing on closing previous grade's gaps while working on the present grade ensures that the child learns from the very basic level of his/her proficiency.