Education contributes to the development of better people around the globe. It is more of a lifelong process in which people gain information, skills, values, and ethics. Education as a whole is significant in our culture. It improves lives and contributes to the smooth operation of society. Education is constantly transforming lives, from eliminating poverty to creating spaces for innovation. Time is passing, and technology is permeating every aspect of life. Likewise, with the coming of online classes as one of the perks of technology, education is explored in different dimensions. The idea that education is possible only in physical classes is drastically changing. In recent times you decide when and where you want your learning sessions to begin. With access to quality education, we are all taking a step ahead towards online lectures.
In this article, we will discuss the advantages of online education that your child can reap. Besides, the 98thPercentile math program and free online math tutorial can help your child excel in this subject. To know all the details and help your child to learn online math, read till the end.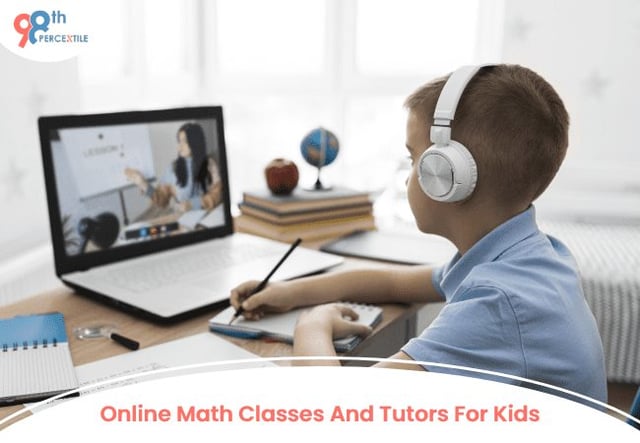 Five Advantages Of Online Classes
Online education is a justified choice considering the current scenario of the Covid outbreak. Amidst lockdown and prolonged shutting down of schools, online classes became a rescue for many. Apart from the condition, online education has some noticeable advantages that make it a new generation need. Let us see those five advantages that make it eye-catching for most:
Flexible Schedule: Online classes brings forth the facility of scheduling classes in their free time. Your children can get access to knowledge at their own pace and at their preferred time. Going with their schedule will save time for them to indulge in other activities. They will learn to manage their time and keep a balance of their studies and other activities.
Cost-effective: Online classes are affordable, unlike traditional education. Many learning platforms provide installment payment options and pay-per-class options. These overall helps you to choose the courses of your choice and pay accordingly. Besides, there is no extra expenditure on traveling, lodging, food, etc.
Customized classes: One of the most significant advantages of taking online lessons is customization. It is that you can mold the lectures according to the needs and requirements of your child. Generally, the class size remains small and, the teacher can concentrate on each student. Thus it helps your children to clear their specific doubts and emphasize their area of interest.
Diverse study materials: Unlike traditional education, online education facilitates students with different study materials. It mainly consists of videos, photos, e-books, infographics, and so on. It helps students in better understanding their topics. Through these, they remember easily and enjoy the learning process.
Communication: As already mentioned, the class strength remains less in an online mode, the interaction becomes simpler. Both students and teachers can interact freely and sort out their queries. Constant interaction enhances communication skills and eradicates the fear of speaking publicly.
Thus it shows why 90% of the students are more inclined towards the online mode of education. Along with these, many e-learning platforms provide separate classes for specific subjects. At 98thPercentile, we understand your child's needs and thus have an extensive course structure for different topics. We provide Math, English, Coding, ELA, and Public Speaking courses for grades K to 12. Our well-designed online math classes with highly qualified math tutors set us apart from other learning platforms. Let us take a look at what your child can achieve via 98thPercentile online math classes!
98thPercentile Online Math Classes
While planning this course, we understood how important the subject Math is for the children. This discipline requires special attention since it lays the groundwork for their future pursuits. The math lessons emphasize operations and arithmetic reasoning, measurement, fractions, and geometry and, your child learns step by step with subject-specific online math instructors. This overarching math program improves kids' problem-solving abilities and leads to academic achievement.
The math curriculum at 98th Percentile is a one-of-a-kind combination of online learning activities and conventional physical classroom instruction. The format enables students to interact with their teacher and peers from practically any location - all that is necessary is a gadget with network connectivity. The instructional strategies used to establish the curriculum are supported by research and are effective. Our complete curriculum distinguishes itself from other accessible platforms. Our accelerated curriculum can educate your children at an overall school level in six months. The curriculum follows standardized testing requirements and involves two 50-minute lessons each week, supplemented by 20-30 minutes of individual practice per day.
Benefits of Joining 98thPercentile Online Math Classes
● Customized Timetable: At 98thPercentile, you can pick your preferred day and time. The classes get scheduled that works best for your child to attend a 50-minute lesson to concentrate and understand. Unlike traditional classrooms with lots of disturbances, here lectures are possible from the comfort of the houses. It gives students a solid basis on which they can embark and explore further.
● Enhance Competency: As our instructors devote more time to your kid, they personalize lessons to fill up any shortfalls from prior school years and keep them on pace to pass their grades on time. It leads to growth in their conventional classes as well. The students can apply the abilities they acquire at 98thPercentile to their everyday learning.
● Fun-filled insightful content: Students understand concepts when they are effortlessly involved in their studies. Our classes use real-life examples to explain ideas that students may easily use in their daily lives. Furthermore, the structure of our programs allows students to participate in conversations with their classmates from across the country to enhance their learning while developing their interpersonal skills.
● Skilled lecturers: Our tutors are from both the United States and India, and they all have relevant teaching qualifications and practical experience. They use excellent learning strategies, are concerned about their students' development and prosperity, and are dedicated experts who aim to keep your child interested and engaged at all times.
Aside from all of these advantages, your child will gain extra benefits. Due to our small class size structure, they will receive customized attention. It will enable tutors to give each student personalized attention even in an online mode of education. The comprehensive course and data-driven outcomes of 98thPercentile ensure that the students grasp essential math skills and topics before progressing to another grade level. We design the entire program with each academic achievement in consideration.
If you are still unsure about our course format, you may schedule a free math online trial now!
https://www.youtube.com/watch?v=fc7a90HqyDo
98thPercentile Online Math Tutors
Irrespective of what subject your child is learning, the role of a teacher is significant. Children learn the exact things at the right pace and guidance. Technological growth is solving the problem of finding a well-qualified tutor. 98thPercentile ensures that your child gets the best education facility with skilled online tutors. Let us see what benefits your child can get with online tutors at 98thPercentile:
Well qualified teachers: The most common need of well-qualified teachers are taken care of by 98thPercentile. Here, all the teachers are qualified from the best educational institutions and trained enough to give the best guidance. Your child will experience the best instructions from our top-class online tutors.
Identify learning gaps: Our online math tutors are experts in identifying learning gaps in understanding among children. We understand the importance of overall knowledge of a subject like maths. The teachers thus not only identify the learning gaps but also assist them accordingly.
Making students future-ready: At 98thPercentile, we take a step ahead from already set learning topics towards additional topics. The teachers aim to strengthen the foundation in the subject and make the students college-ready. Academics wise they will always remain well-versed.
Platforms for practice and evaluation of children: We prioritize monitoring because they are the most effective tool to measure students' development. To make this more productive, we select award-winning platforms for the practice and assessment of our students.
● Insightful, fun-filled classes: At 98thPercentile, we emphasize learning that students like since it is the most effective method to keep them engaged. Our tutors organize lectures that are insightful and blended with fun. Along with this, we try to create a friendly and interactive environment for students to feel comfortable. These kinds of classes help them to communicate effortlessly about their doubts and questions.
● Invoking critical thinking: Subjects like maths require skills like critical thinking. Our online math tutors also give importance to this fact and take possible steps. They create questions, puzzles, and activities to improve children's logical thinking ability and problem-solving skills in every class.
FAQ
What curriculum does 98thPercentile follow for all the grades?
We at 98thPercentile follow the Common Core State Standards. It is which is followed by 90% of the schools in The United States. We keep updating based on the instructions given by the education board.
How long does each lecture last?
The class hour for Math is of 50 minutes. The lecture hours get divided as follows: 5 minutes of Critical Reasoning solving problems + 20-25 minutes of introducing a new concept + 10 minutes class practice + 10 minutes skill gap closing/homework reviewing.
Will my kid get access to video courses in addition to the lessons?
Yes. For each session, students receive pre-recorded clips and class recordings for guidance and improved understanding. Along with recorded lectures, we make every effort to provide e-books and other instructional resources as needed.
What is the math online tutor course fee?
Unlike other online platforms, the online math programs at 98thPercentile are reasonably priced. The cost structure for online math tutors is very reasonable. Your child will also receive extra classes and ongoing writing projects to track their development as part of our pricing system. For more information, you can visit https://www.98thpercentile.com/.
How do parents monitor the development of their children?
We use an online platform that enables parents to track the progress of their children. We also offer a tool that helps parents individually contact the instructor to discuss the development. Aside from that, our continual evaluation procedure keeps the students on pace.
What happens if my kid is absent from class?
Students receive pre-recorded films for each course, as well as recordings of missed classes. It allows them to keep up to speed on the teachings.
Do 98thPercentile also train kids for competitive tests such as STAAR, SAT, and so on?
Yes. Each class begins with a 5-minute discussion of a critical reasoning issue (relevant to that class's subject). After we finish the course and revision, we answer Kangaroo, STAAR, and other questions. Also, the grades 6 to Algebra2 curriculum is designed to prepare children for SAT exams.
Summary
The current generation is digitalizing and, with this, the education sector is also transforming. The demand for online classes and online tutors for every subject is at its peak. 98thPercentile available courses are appropriate for students from any grades from K to 12. The online math classes which have the highest demand are also well designed by the subject experts. The online tutors are also well-qualified to make students future-ready.
So, waiting for what? Book your free online classes trial today.