Video games are created through various programming languages and software development processes. It sounds like coding and game development is something only brilliant minds can do. However, it is far from the truth. Coding gives a hands-on experience while creating and learning. Anyone can build a game from scratch and learn from the process. Learning how to create a game from scratch can be a fun process and a gratifying experience for beginners as well as experts.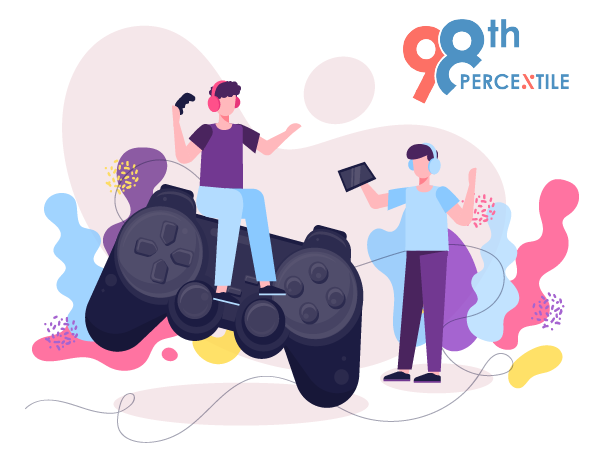 Coding is one of the prime 21st-century skills as technology is constantly evolving, and as kids learn how to code, they gain the technical skills needed to follow and pace up with new technology demands. Youngsters who are into game development have a high potential for creativity and increased imagination power.
Can game development teach coding?
YES! Kids can turn their love for playing video games into developing and creating their own games. Game development can not only teach key coding and technical skills, but they also teach a bunch of other entrepreneurial skills such as analytical thinking, storytelling, and so on. Modern-day game development is all about the art of visualization and interactive storytelling more than anything. Besides the technical skills, the game developer needs to have creative skillfulness. When kids are engaged in building games, they learn the art of visualization, which drives them into active learning. Certain types of games also encourage intrinsic motivation towards deep learning and problem-solving. Creating a video game is like expressing a visual story, which can open different ways of thinking for the kids. So, if your kids are one of those young gaming enthusiasts who would love to build a game of their own and, or want to know what it is like to create a game, then follow the guidelines below.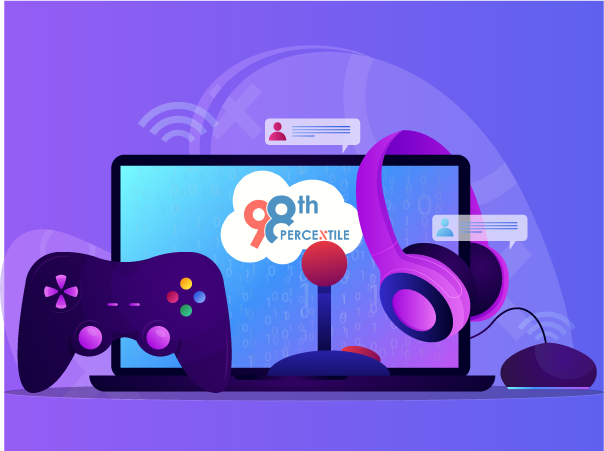 Creating a game on Scratch is fun and challenging at the same time.
Scratch is the best visual programming or block-based coding option for the kids out there and arguably one of the best programming languages to learn. With the Scratch platform, kids can create a game out of their imagination. It's where art, imagination, and code with a little bit of practice can bring the game to life. There are endless options in types of games one can create from Scratch, tweak it based on a unique idea, and voila your kid has created a new game!
Let's see how to create a game from scratch on Scratch –
CONCEPTUALIZE
Before starting to code, kids must brainstorm ideas about what kind of game they want to build. Ask them to conceptualize the game design and the game characters they want to bring to life. Let them define the objective of the game. Is it collecting the eggs in the basket without breaking it or saving the princess from dragon demons? After coming up with the objective of the game, assess the level of difficulty in each of the levels. If there are no levels, then perhaps a REPEAT button can be added to play the game again and achieve a better game score. The game should be challenging and immersive no matter its difficulty level.
Some popular types of games that can be made on Scratch are clicker games, scroller games, maze games, pong games, online multiplayer games, and chase games amongst many others. Choose the type of game that is similar to the kid's conceptualization.


CREATE
Once the kids have conceptualized what they want to create, it's time to put it all together using the visual elements. Kids can add a backdrop that fits to the game's theme. Suppose, the game is about cooking, they can add a related backdrop. After the backdrop is added, it's time to add an important element called Sprite. Sprite can be custom-made or used from the pre-created ones from the in-built Scratch library.

CODE


After creating the visual part of the game, kids would want to add the instructions for the game to work as conceptualized. The instructions that tell what the game should do – when to begin when the sprite should move, and more, are nothing but code. As the game is more and more customized according to the levels involved, kids would need to re-work the code to fit the idea of the game.




Creating games on Scratch is really fun and if your kid loves playing games, then they would definitely love creating their own games. 98thPecrentile is coming up with a FREE master class on Coding on February 26, 2022, for kids of grades 3 to 8, the best instructors will be teaching how to develop a game LIVE on the Scratch platform from scratch. For all the details and registration click here. Seats fill up quickly, do not let your kid miss this opportunity. Watch them become a game developer in no time.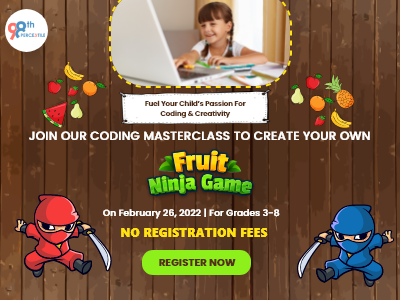 Summary
Creating games can spark a love for technology and sharpen coding skills. Through game development & interactive animations, coding concepts are simplified and easy to learn. Join 98thPercentile's Fruit Ninja Game Coding Masterclass on February 26, 2022, to explore new avenues of learning to code.
Related articles