Summary: Motivating children to learn how to code or build a game on their own will give them confidence. It will further push them and make them more ready to face the industry. At 98thPercentile, we focus on the overall development of your child. The healthy competition between children also promotes growth and communication skills.
Who are successful entrepreneurs?
Jeff Bezos, Bill Gates, and Mark Zuckerberg are successful entrepreneurs and all the Entrepreneur Giants have one thing in common. They all shared a tech background and started small. Bill Gates once said, "Learning to write programs stretches your mind, and helps you think better, creates a way of thinking about things that I think is helpful in all domains."
Coding defines the new. Everything in the world we live in is changing, from CRT Monitors to Computation on hand; we have come a long way in a rather short period of time. So today, it isn't very reasonable to say that coding is only beneficial to people who deal with computers as each of us deals with some or the other computers in our daily lives.
Understanding the clicks and questioning what's probable has always proved beneficial to young minds. On the off chance that you know how to compose lines of code, you'll stand apart from the group and advance beyond the pack in the business.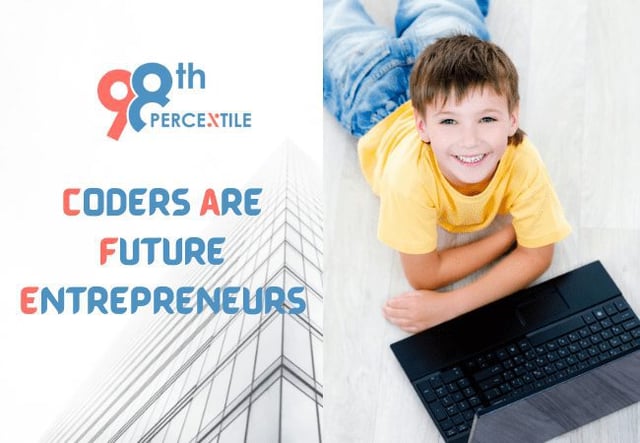 People who know how to code have different aspects of learning and views towards each problem. Coding teaches us critical thinking and gives your daily life a discipline that is needed to succeed. A few takeaways from Coding are:
Not everything in life is linear. There's never a clear line from point A to point B. One must know how they can cut through and make things happen.
Roadblocks and mistakes are inevitable. They teach the ways a thing can "not be success." We cannot be afraid of mistakes and step back. We need to own them and find ways to rectify them until we reach the desired solution.
If your program works, you're not programming — you're accomplished for the day, which can never be the case.
You can't prevail in an industry if you stay at its edge. To succeed, you need to express yourself globally. Stay associated with others in the business.
A program is an extravagant jail that you work for yourself. In case you're doing it well, it'll assume control over your life.
While that is said, what is noticeable is that successful Entrepreneurs also follow these in their life.
No business is ever linear. There are setbacks and roadblocks, and you need to find a way around them. Wrong decisions and mistakes will happen. Moving on from them is a deal you need to set. An Entrepreneur can never halt working and take a break. Having a traditional outlook will never take you far in your career; you have to be innovative and connect with similar-minded people. And at last, your business is a very fancy prison that you build for yourself. If you're doing it well, it'll take over your life.
This is the major reason why studies suggest that many coders and programmers become entrepreneurs and almost 97% of the successful entrepreneurs are from a tech background.
It is never too soon for you to start a business and become a business person. Gone are the days when parents had to make their children go through secondary school and afterward school before giving them the freedom to seek their dreams. Be that as it may, Coding is an extremely significant ability you need to acquire. It gives you the opportunity you need to give wings to your child's creative mind.
We have heard stories of teenage coders utilizing their skills to make software, apps, games, and sites that empower them to get rich at an exceptionally young age. For example, a youthful Vietnamese game engineer who made Flappy Bird was procuring $50,000 every day before quitting. Likewise, a ton of youngsters who offer their coding and cognitive abilities online can save enough for further studies.
While there are many online coding competition websites that encourage your child to study coding, We, at 98thPercentile believe that it is important that your child gets overall growth. We offer courses in Coding, Math, Public speaking, and English. All of these together will build confidence in your child. Not just courses, every month we conduct programs and contests online to make sure your child finds himself/herself in a comfortable environment and continues to learn.
November's Spell Kahoot pulled in more than 500 contestants and was a tremendous success, and December's 98thPercentile SMART pulled in considerably more. A new and recent success was Comix, a contest in which children were not just ready to test their writing abilities yet, in addition, had the option to show the world their cartooning abilities. In every competition, 3 champs from every one of the 3 divisions were elected. They all procured marvelous prizes including Amazon gift vouchers, grants to 98thPercentile classes, and being highlighted in meetings and websites on our computerized official statement! We accept that rewarding is one of the manners in which children and young blood can be urged to do extraordinary in all that they do.
We are facilitating a Coding Bootcamp cum competition for children, Learn2Code-Code2Win, in Grades 1-6. Challengers will actually have an opportunity to make their own game/project coding from scratch. So, if your child is searching for a fun and energizing action for this mid-year, this may be the one.
Learn2Code is a Coding Bootcamp where the expert instructors from 98thPercentile will teach your child to code a game on their own. Fortunately, this bootcamp will be free of cost. All students will have to post their game videos on our gaming wall with #98thPercentile. The video that hits the maximum likes will win the contest. Winners will be crowned with a lot of gifts that can be used to develop their skills further.
The schedule for the Learn2Code Bootcamp is as follows:
Grades 1 and 2 will be on 08/28/2021

Grades 3 and 4 will be on 08/29/2021

Grades 5 and 6 will be on 08/29/2021
The world is moving at a pace higher than ever and we need your children to keep up. To do so, they will have to keep up with the latest trends and technology. Enrolling them with us will help them intellectually hone their abilities and make them "Industry-Ready." So, Enroll your kid with us in this online coding competition and assist them in brightening up their future and building the abilities indicated by Industry Requirements.
Related Articles: